I've noticed some of you could still use a little assistance creating effective filters to help find relevant projects currently out for bid or in pre-bid, or better known as planning phases. Once you learn how to build filters, it allows you to narrow down opportunities within your search parameters to find and track projects, plus, develop a pipeline of future business. Following these simple steps also ensures that you are receiving the Nightly Email Update in your inbox each morning.
Creating Effective Bidding Filters 
Keywords
Once you're logged in to your online plan room account, select the Filters tab. To create a new filter, click the + button. In the boxes provided, add keywords that describe your work. These words should be consistent with words you'd find in the specifications and plans of a project. If you have more than six keywords, simply add a comma after each word in the final box. You can add as many keywords as you'd like.
Filter Trick: Make sure to use variations of keywords. For example, if you're looking for excavating jobs, use all the following keywords: excavate, excavating, excavation, sitework, site work. Filters search the exact words you enter. If the specs only say 'excavation' and you only have 'excavating' that job won't be in your filter results.
CSI Codes
In the four boxes below the keywords, you can enter CSI codes. If you know which division you usually bid in (04 for Masonry, etc.) go ahead and enter them. If you're not sure, go to the Research tab and select CSI MasterFormat list. Hit CTRL+F on your keyboard to search for a word that describes your specialty and type the word in the box. The search function will automatically display the divisions for you.  Once located, only the first two numbers are important (i.e. 04 instead of 04 23 45) to list in the boxes provided.
Project Phases
When creating an effective bidding filter, check the box next to Bidding. For best results, always create planning and bidding filters separately!
Project Types
This section allows you to narrow down the types of work you perform. Non-Building/Services is for lawn mowing, materials, cleaning, and, maintenance. Professional Services are not provided in bidding projects, only in planning, and it's where you see RFP's and RFQ's. Therefore, creating planning filters is very important!
Categories
These represent the owners of the projects that you want to view. Since we are a commercial online plan room, the residential category contains multi-unit living spaces. Institutional covers schools, hospitals, senior living, churches, and other similar buildings.
States & Counties
By clicking on the map under States & Counties, you can choose which counties in Michigan you'd like to find work. Click each county to highlight them green and indicate your desire to see projects in that location. If you want to view the entire state, hit Select All.
Filter Trick: Counties you select will unselect if you Preview a filter instead of saving it, then hit the back button. Make sure you always Save filters you want to keep!
Additional Check Boxes
Under Funding, check the boxes for viewing Public or Private projects. We recommend you choose both, to see the largest number of relevant projects.
Ensure that you've checked the 'Include in Nightly Email' box as well. Checking this box will send an updated report each morning to your email with new filter results and tracked project changes.
Naming Your Filter
Name your new filter based on the content for easy access. For example, if it's a bidding filter, put the word 'Bidding' in the filter's name. If you have selected specific counties, add 'West Michigan' to the filters' names to keep track of different regions.
Once you've completed this, Save the filter, go back to the Filter tab, and click the green button under Run to view the results. You can go back and edit the filter at any time by clicking on the pencil icon under Edit on the Filters tab.
Creating Effective Planning Filters 
You can begin to create a new filter by hitting the + button, or by using your bidding filter as a template for all other filters you'd like to create. To begin creating effective filters for planning projects, navigate back to the Filters tab and click on the pencil under Edit on your bidding filter. You can keep all the same keywords or you can add/change any you'd like. Since you are not looking in the specifications of the project, you can use more layman's terms as keywords. Remember to eliminate all CSI codes, as you should not use them in a planning filter.
Project Phases
Uncheck the bidding box and check the planning boxes you want to view. You can check all three planning phases for the same filter, or just those that you prefer. Planning – No A/E means that the project does not have an architect or engineer assigned. Planning – A/E means that there is an architect or engineer assigned. Planning – CM/GC means that the project has a Construction Manager or General Contractor assigned. If you are viewing the entire state, it is usually best to create a filter for each phase due to the amount of projects that could populate. It is recommended that filters show no more than 100 projects per filter for ease of processing.
Project Types
Project categories can remain the same. If you're looking to view RFP/RFQ's, check the Professional Services box. This can also apply to consultants and some surveying or environmental remediation services.
Next Steps
Categories, counties, funding, and the Nightly Email box can remain the same. Before saving, change the name of this filter to reflect Planning, then Save at the top of the results page.
Further Information on Creating Effective Filters 
Filters can also be set up for specific brands and vendors of products. Following the same process of creating a bidding filter, substitute the keywords with words of brand and vendors you offer and/or work with. If project specifications reference those specific brands, they will show in the results.
Results from your filters will show up at the top of your Nightly Email Update under New Filter Hits and on your Deskpad at the top, in the green section.
Check out this article for more tips and tricks about navigating the Deskpad.
Understanding how to create filters is an effective way of finding the right jobs for your specialty when the process if followed correctly. If you have questions, you can also click on the Help tab and go to View all help topics to listen to a quick 10-15 minute video or feel free to reach out to me anytime.
Check out other articles written about your membership here.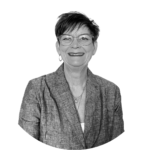 Cheryl, Member Engagement Specialist
Builders Exchange of Michigan
Cheryl is responsible for the effective communication of member benefits, training, and retention of services. She is the administrator of membership accounts and liaison for member relations.