The increased efforts by all members of training your teams, has been impressive!! Keep contacting me for dates/times available as it helps your team understand + navigate the BX Exchange platform much more effectively & efficiently for your business needs.
A frequent question that has surfaced during trainings, has been about the CSI MasterFormat List. What is it and how to use it? 
What is CSI and why is it so important to construction documents?
Construction Specifications Institute "CSI" was founded in 1948. It is a national association that focuses on the standards and protocols for the construction of buildings. To date, it has over eight thousand experts who are committed to improving guidelines, standards, and protocols of construction.
What is CSI cost code list?
MasterFormat®, a publication of CSI and CSC, is a master list of numbers and titles classified by work results. It is primarily used to organize project manuals and detailed cost information, and to relate drawing notations to specifications.
Often companies will simply use the construction cost codes list provided by the Construction Specifications Institute (CSI) as a means of ensuring their documents can be easily-interpreted by outside sources (i.e. fellow contractors).
How many CSI codes are there?
50 Divisions refers to the 50 divisions of construction information, as defined by the Construction Specifications Institute (CSI)'s MasterFormat beginning in 2004.
What is a MasterFormat number?
MasterFormat® is the master list of titles and numbers used to organize specifications and other project information for most commercial building design and construction projects in North America. It lists titles and section numbers for organizing data about construction requirements, products, and activities. To create filters, only use the first two numbers of the CSI code and indicate in the box provided.
Why is CSI MasterFormat important? And what are the Advantages of the CSI MasterFormat?
It helps every discipline involved in the design, building and operations of construction applications, whether it's a hospital or elementary school. The MasterFormat also helps contractors and architects work on additions in the future and renovations.
Who uses MasterFormat?
The Master Format is used entirely at the option of the architect or engineer who is responsible to prepare specifications for a project. Manufacturers, including manufacturers' representatives, suppliers, and anyone involved in the material supply chain use MasterFormat to help get their products properly represented in the construction documents and into the construction process itself.
Where is it found on the BX Platform?
The CSI MasterFormat list is found in the drop down menu under the Research Tab.
How do I know what code to use?
Once you click on the list, hold down the CTRL F key function to search and type in the word/words you are looking for. The search function, at the top right, will show you how many times the word shows up and if you click on the arrow, it will indicate the specific codes as it shows you where they are located.
This will also help determine if it's an effective word to use in your filter search based on the CSI codes and if you should designate the code in the box. Rule of thumb: if you use at least 20% of the code, put the first two numbers in the CSI code box on your filters page. If not, try to be more specific by using word phrases used in the displayed line items. DO NOT use the line item number themselves, the filter only understands the first two numbers of the CSI code.
As always, feel free to contact me with questions, for a training session and/or just to learn how to build good, relevant, filters to find projects, using the CSI MasterFormat List.
I'd also love to hear your success stories!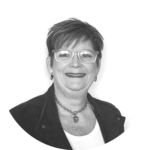 Cheryl, Member Engagement Specialist
Builders Exchange of Michigan
Cheryl is responsible for the effective communication of member benefits, training, and retention of services. She is the administrator of membership accounts and liaison for member relations.