Happy New Year's greetings to all our members. We are leaving behind 2021 with all the turns and curves it threw at us. Our hope in 2022 is that we are all able to find what will be our new normal. Of course, we must constantly be diligent to roll with whatever it might bring us. We are thankful and grateful to all of you for continuing to use us as your resource for your construction business.
I wanted to give a warm welcome to our newest Builders Exchange of Michigan Board of Directors. Incoming Board members are Steve Johnson, Board Treasurer (VanderPloeg, Bergakker & Associates), Dan Oosterink (Dave Cole Decorators), and Steve Karsten (JWK Construction). The 2022 Board President is Tom Dylenski (Mechanical & Industrial Insulation) and Vice President is Dave Moore (Grand Rapids Gravel). The outgoing Board members are Past President Jodi van Haren  (Advantage Mechanical Refrigeration), Mike Verhulst (Rockford Construction), and Joe Linck (Linck Law). Thank you for your service to the members of the Builders Exchange of Michigan.
There are many great events and trainings that are happening this year. Please be sure to check our website calendar for updates and to get registered. May you have much success in the new year!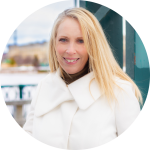 Elizabeth Bovard Strong
Executive Vice President